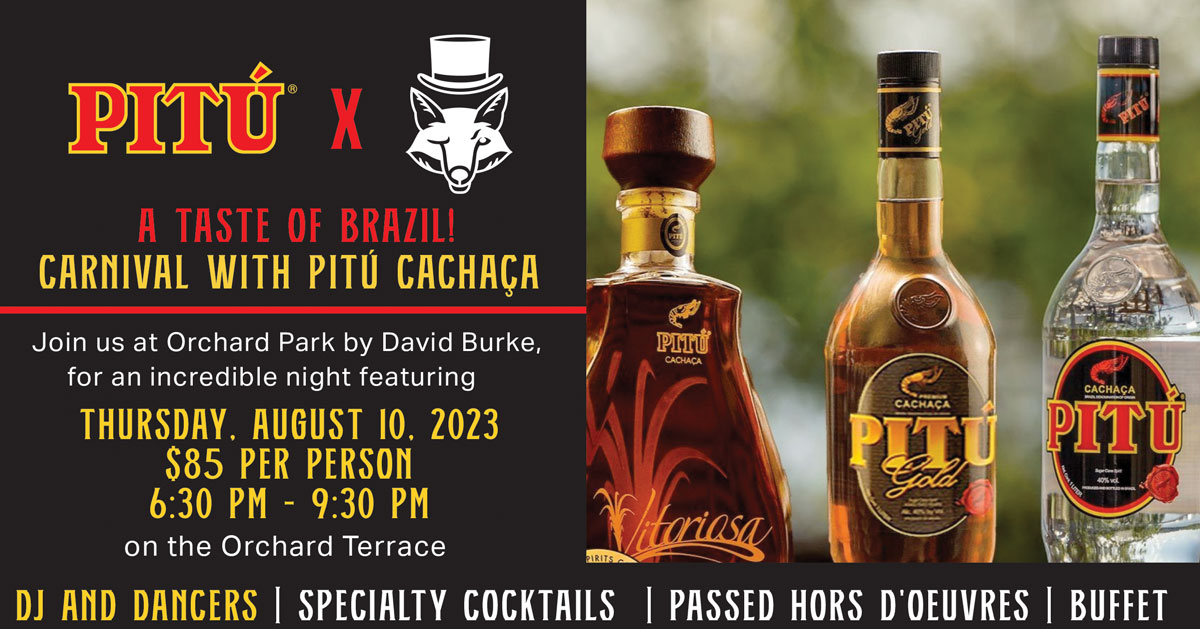 A TASTE OF BRAZIL!
CARNIVAL WITH PITÚ CACHAÇA
THURSDAY, AUGUST 10, 2023
ON THE ORCHARD TERRACE
6:30 pm – 9:30 pm
$85 per person*
includes 2 signature cocktails
Join us for an amazing evening featuring PITÚ CACHAÇA!
Produced from newly harvested sugarcane cuts,
Pitú represents Brazil's traditional Cachaça.
Pitu Cachaça Specialty Cocktails
DJ and Dancers
Carnival Menu
Passed Hors D'oeuvres
Tuna Tacos guacamole
Mini Crabcakes guava jam
Chicken Empanadas cilantro aioli
Crispy cheeseburger dumplings sweet chili aioli
Pholourie tamarind chutney
Doubles mango dipping sauce
Clothesline Bacon pickled mango and papaya
Station // Hot
Curry Chicken and Roti
Grilled Salmon mango chutney, coconut rice cake
Sweet Potato, Cauliflower Relish, Sweet Corn
Station // Cold
Roasted Garlic Hummus grilled pita, vegetable crudite
Fruit Platter
Maple Bacon Potato Salad chives, pickled red onion
Watermelon Pizza feta, basil, balsamic
*Plus tax and gratuity. 21 and over event, rain or shine.