Orchard Park by David Burke showcases award-winning celebrity chef David Burke's modern American cuisine with a seasonal menu highlighted by cuts of steak prepared using his patented Himalayan sea-salt dry-aging technique.
Orchard Park by David Burke 
Sunday
– Thursday  
4pm – 10pm
Friday – Saturday  4pm – 11 pm

Open Daily  4pm
Please note Orchard Terrace will be closed on Thursday, June 10, for a Private Event

C'est La Vie Bar and Lounge*
Monday – Wednesday  4pm – 11:30 pm
Thursday 4pm – 1am
Friday – Saturday  Noon – 1am
Sunday  Noon – 11:30pm
*Bar Menu available Friday, Saturday Noon – 4pm
Valet parking for $5 or free self-parking available 
For dining guidelines, dress code information, click here.
Menu Selections/Pricing Subject to Change.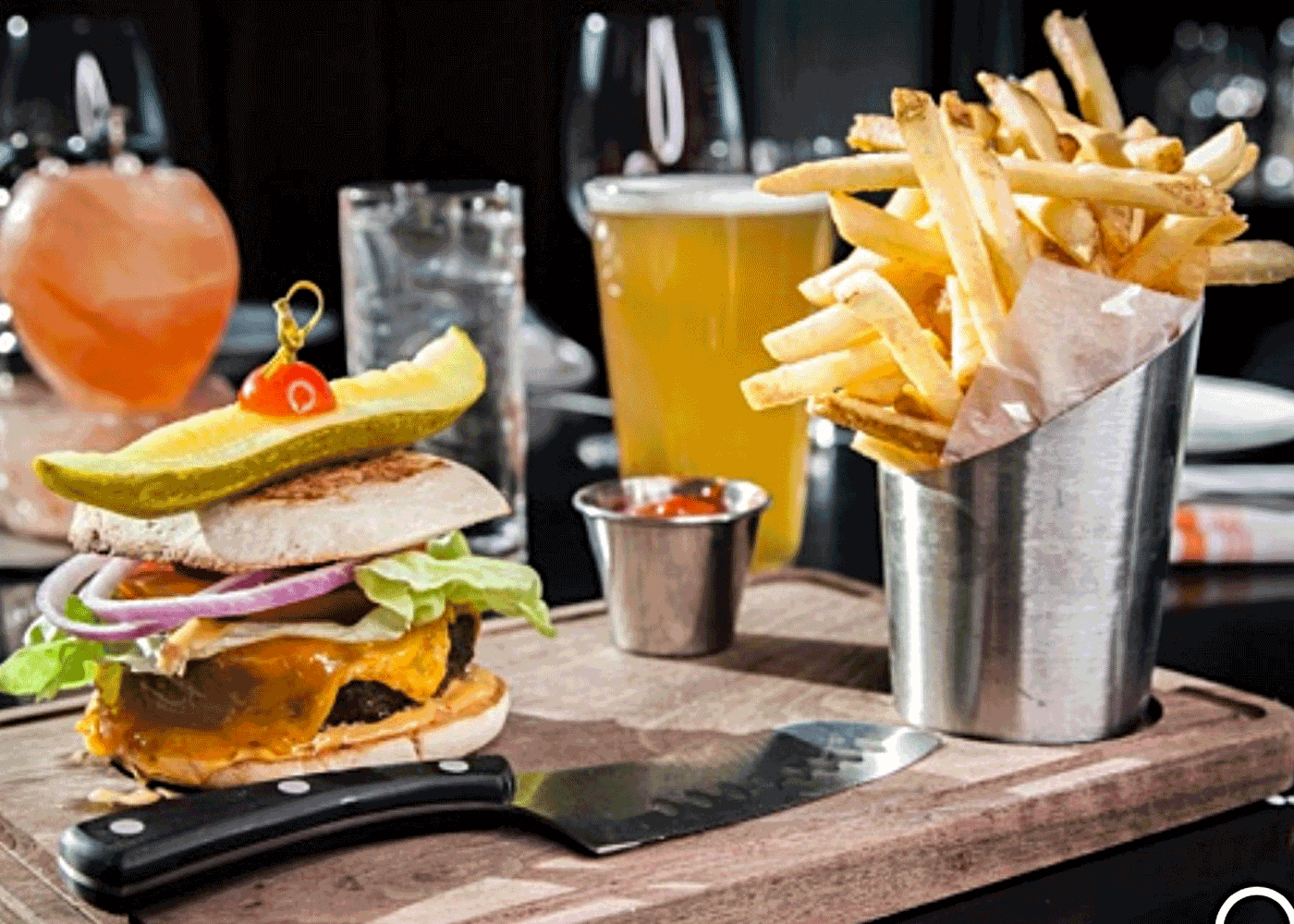 TUESDAYS ARE BURGER NIGHT!
Available 5pm – Close
$29 per person, includes one Wine by the Glass or Beer
WEDNESDAYS ARE DATE NIGHT
3 course prix fixe
$35 per person++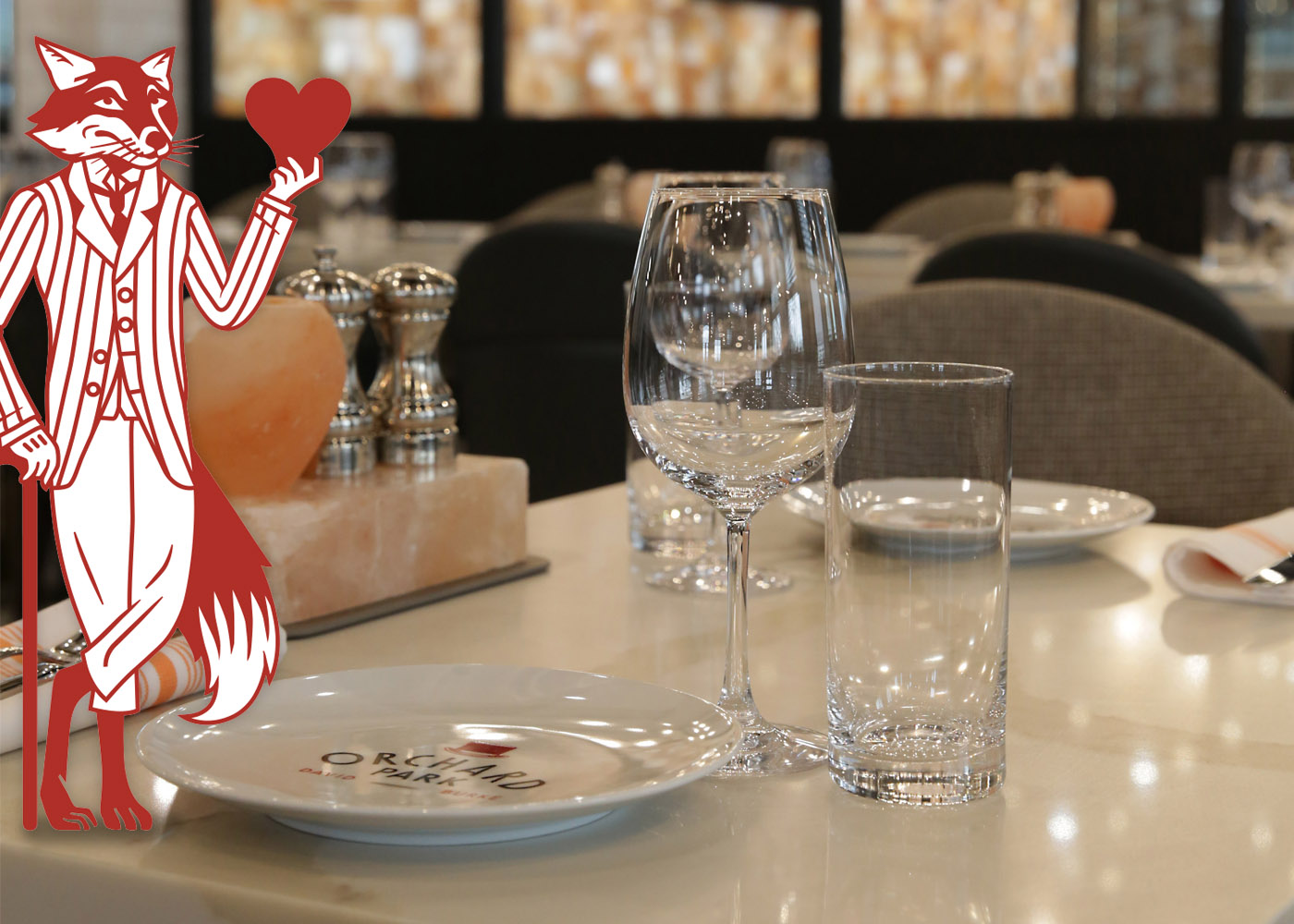 Menu Selections/Pricing Subject to Change.
OP Cheese Popovers  sweet cream butter  1.75 each or basket of 4, 6.00
Naked Oysters* red wine mignonette, ½ dz  19, 1 dz  36 
Oyster & Crab*​ orange segments, red wine mignonette (5)  27
Tuna Tartare Parfait*​ soy ginger, avocado, snow peas, potato crisps  18   
Lobster Dumplings chili oil, tomato miso, preserved lemon  20 
Pretzel Crab Cake​ aji pepper aioli, rhubarb jam, rice pearls  21  
Burrata Cheese black figs, tomatoes, asparagus, prosciutto, pine nuts, basil balsamic  18 
Classic Caesar crispy parmesan, croutons, lemon anchovy dressing  17
Artichokes & Arugula Salad fresno chilis, raisins, ricotta salata, white balsamic vinaigrette  18
Pistachio Duck Dumplings duck consommé, spring onions, morel mushrooms, chilis  18
Clothesline Bacon black pepper maple glazed bacon  22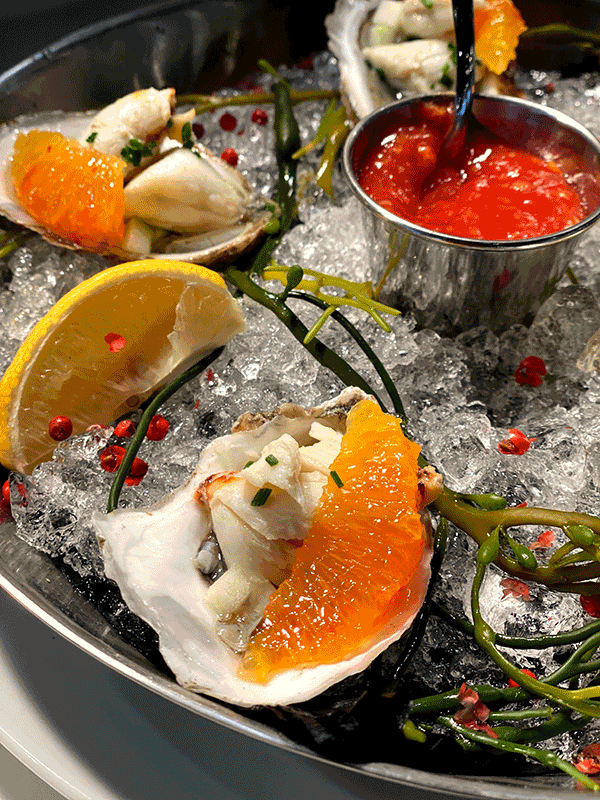 Margherita basil, mozzarella  18
Spicy Lobster basil, preserved lemon, peppadew, mozzarella  29
Sausage chorizo, nduja, prosciutto, mozzarella, arugula  23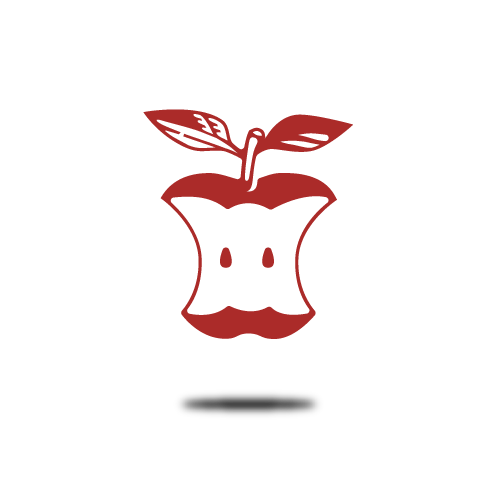 Wild Mushroom Cavatelli short rib, broccolini, spring peas, roasted garlic  29
Garganelli Bolognese spring onion, carrots, fava beans, parmesan reggiano  26
Spinach & Ricotta Cheese Raviolis sundried tomatoes, spring peas, crispy mozzarella  24
Salmon Steak asparagus, sundried tomatoes, artichokes, meyer lemon butter sauce   34
Roasted Branzino artichoke puree, tiny ratatouille vinaigrette  36
Scallops & Octopus "Veracruz" tomato, olives, capers, broccoli  36
Lamb Chops basmati rice, cauliflower, spring peas, Moroccan glaze  39
Woodfired Chicken pesto mashed potatoes, garlic jus  29
Lightly BBQ Spareribs prawns, creamy polenta, corn succotash, crispy onion rings  39
Skirt Steak* polenta fries, pickled onions, mushrooms chimichurri  34
Surf & Turf* petit filet mignon, lobster tail, roasted local mushrooms  59
7 oz. Petite Filet Mignon  39
16 oz. "Bronx" Bone in Filet Mignon  59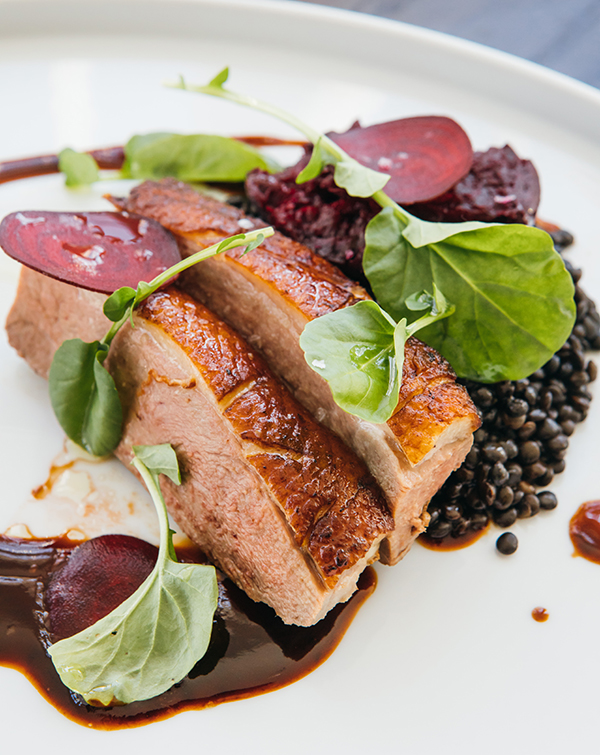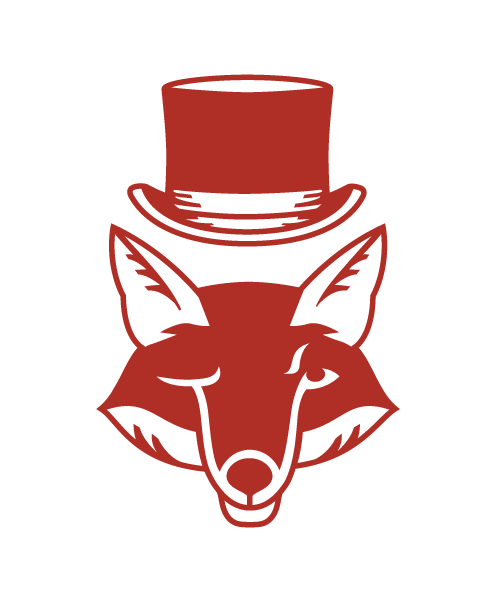 David Burke Himalayan Salt Aging: Patent US 7,998,517 B2
12 oz. Dry Aged New York Strip   49
20 oz. Dry Aged Rib Eye   59
8 oz. Dry Aged Burger  aged cheddar, english muffin, LTO, Fries  21
34 oz. Dry Aged Porterhouse** for 2  130
34 oz. Bone in Chateaubriand** for 2  120
 **with a choice of any 2 sides
8 each, 3 for 21

spring onions and mushrooms, cream spinach with puff pastry, roasted asparagus, whipped potatoes with basil oil, spinach and carrots, hipster fries with bacon, shishito peppers, parmesan cheese
Vanilla Bean Crème Brulee  Raspberries, Almond Cookie  9
Tiny Dancer Chocolate Cake, Dark Chocolate Mousse, Hazelnut Crunch, Pomegranate  10  
Strawberry Martini White Chocolate Ganache, Strawberry Panna Cotta, Passionfruit Gelee,  Meringue Kisses 10
Chocolate Chip Ice Cream Sliders  Vanilla Gelato, Candied Pistachios, Amarena Cherries, Toasted Marshmallow, Hot Fudge Sauce  10
Market Berries  Strawberry Hibiscus Tea, Coconut Sorbet  9
Caramelized Apple Tart  Cinnamon Gelato, Caramel Sauce, Smoked Cinnamon  16
Sugared Donuts and Macaroons  Whipped Cream, Passionfruit Caramel, Raspberry Sauce  16
Tin Can Cake   Chocolate Sauce, Caramel Anglaise, Heathbar Crunch, Vanilla Ice Cream, Waffle Cup and a lil bit of Whip Cream  24
Cheesecake Lollipop Tree  Toffee Crunch, Cherry Pistachio, Chocolate Tuxedo, Bubblegum Whipped Cream  20
*This item may be served raw or undercooked. Consuming raw or undercooked meats, poultry, seafood, shellfish, or eggs may increase your risk of foodborne illness, especially if you have certain medical conditions.
Orchard Park by David Burke adheres to the interim safety guidelines for COVID-19 from the state of New Jersey.
DINING INFO
We've had quite a few inquiries regarding specific guidelines and dress code so here are a few things to know before you join us. We look forward to seeing you at Orchard Park by David Burke. 
Unless you have an underlying condition, we ask that guests please wear their personal masks while entering, exiting or moving throughout the restaurant.
While we are always considerate of special requests, no outside food or beverage is permitted in the restaurant without prior authorization.
Children are welcome, we have high chairs available.
Please notify your server of any allergies. Not all ingredients are listed on the menu and while we can accommodate many dietary requests, we cannot always guarantee there will be no cross-contaimination
Due to New Jersey's mandated public health guidelines, all guests must be present prior to seating and all parties are allotted 90mins at their table
We kindly ask our guests to abide by the smart casual dress code of David Burke Restaurants. The following clothing items are not permitted:
Beachwear Athletic Tops
T-Shirts & Sweatpants
Casual Shorts
Flip Flops (Including Rubber & Plastic Thongs)
Excessively Revealing Clothing
Admittance to Orchard Park by David Burke is at the discretion of management who reserves the right to refuse service to patrons who are inappropriately dressed or not following specific guidelines. Thank you in advance for your adherence.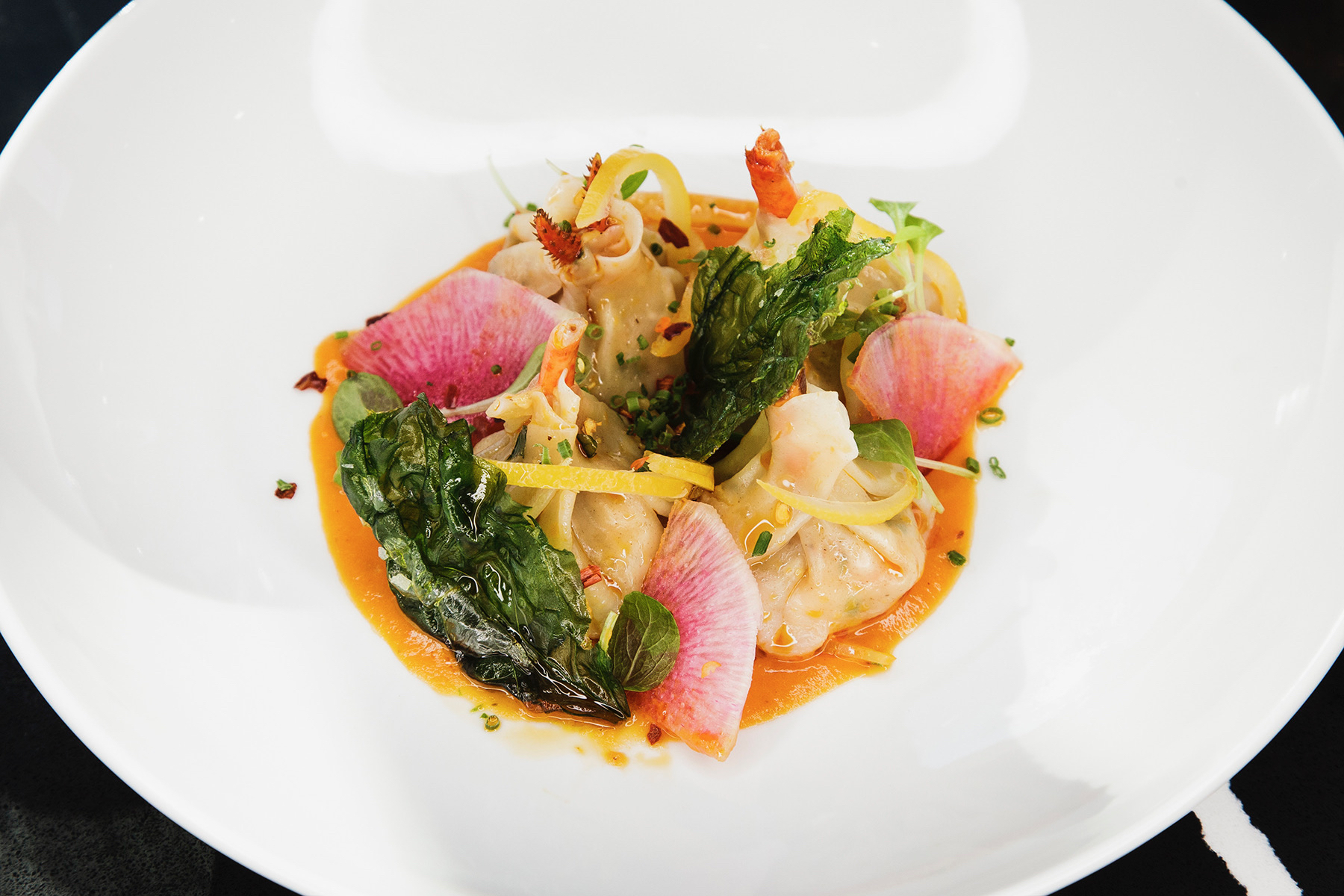 Gift the experience of great food! 
Orchard Park by David Burke Gift Cards are available and delivered digitally for your convenience.